Dear Neighbour,

As responses to the COVID-19 crisis continue to evolve, there are several ongoing issues I wanted to highlight.   

First, the government has made a fiasco of its $4/hour pandemic pay wage enhancement, a much-deserved recognition of the heroic efforts of front-line workers who risked their own health and safety during the pandemic to keep us safe. Last month the Ontario Hospital Association (OHA) penned an open letter to the Premier, pointing out the "extreme morale issues" created when some front-line healthcare workers receive the pay and others, who work side-by-side with them, do not. Now, two months after the program was announced, not only do thousands of front-line healthcare and other essential workers remain excluded from the program, but none of the 375,000 workers who were included in the program have received their pay! My office has been flooded with emails from frontline and essential workers whose contributions have been disrespected and ignored by the Ford government, as well as from those who were on the list but have not seen a single dollar of the wages they were promised. My colleagues and I will continue to push for all front-line workers to receive pandemic pay, and for the top-ups to be retroactive to the start of the pandemic. 

Second, the surge of COVID-19 outbreaks among Southwestern Ontario migrant farm workers demands stronger government action.These workers have a right to safe working and living conditions, and all Ontarians rely on the food they produce. The Official Opposition has been urging the Ford government to rapidly expand migrant worker testing by deploying mobile testing units directly to farms to test all workers, whether or not they have symptoms, and to protect workers who fear repercussions or deportation if they are COVID-positive. There is also a need for concrete directives in place regarding personal protective equipment and sanitation, and proper accommodations for workers who must self-isolate. 

Finally, the child care and early learning sector has still not yet received concrete funding agreements from the government to support the safe reopening of child care. I want to thank ECE Jonathan Evans from London Bridge Child Care for sharing his perspective on the uncertainty and instability facing London child care centres, which will be challenged to reopen without the funding they need to pay their staff, and to purchase the materials, toys and equipment needed to ensure safety of staff, children and families. 

Please stay safe and take care. And to all the fathers who are reading this message, enjoy your day tomorrow!
 
The COVID-19 crisis revealed that the seniors most at risk from the virus were those living in for-profit long-term care homes, and also underscored the urgency of increasing PSW wages and giving them stable, full-time jobs.  

The evidence is clear: compared to municipal and non-profit homes, for-profit long term care homes reported higher COVID-19 death rates, fewer staff per resident, and some of the most disturbing incidents of resident neglect. The risks to residents were increased when for-profit homes hired contact or part-time PSW staff from private home care agencies. The low wages earned by these PSWs forced many to work multiple jobs to make ends meet, going from retirement homes to long-term care homes to home care visits, potentially spreading the virus especially if their employer did not provide adequate PPE.  

For-profit operators must be held accountable for their failure to protect seniors, and it is shocking that the Ford government is considering granting immunity from civil liability for companies that operate long-term care facilities.  

It is also deeply concerning that the Ford government is pushing ahead with Bill 175, a major reorganization of the home care system that will reduce public oversight and further expand privatized care. There is no question that our home care system is broken - constituents regularly call my office frustrated about the inconsistent quality of care they receive and the lack of accountability and transparency from private home care agencies.

But Bill 175 is definitely not the answer. Not only does it expand privatization, It does nothing to tackle the critical PSW shortage. We need a real overhaul of home care - one that enables PSWs to deliver the care patients deserve, and ensures that health care dollars go to supporting patients not corporate profits.
Calls for an end to systemic anti-Black and anti-Indigenous racism are continuing to mobilize Londonders, with more than 1,000 people gathering in front of London City Hall for a second Black Lives Matter rally today.

After weeks of refusing to mandate the collection of race-based data, the Ontario government finally

 

announced a regulatory change to require the reporting of data on race, income, language and household size for individuals who have tested positive for COVID-19. The Middlesex-London Health Unit has been a leader in the collection of data to understand social determinants of health, and this week released a

 

preliminary analysis of the impact of the pandemic

 

on Black and racialized Londoners. The data confirmed that these groups were harder hit by COVID-19, making up 17 per cent of the population but representing 27 per cent of COVID-19 cases. 

The Middlesex-London Health Unit, along with public health units in Ottawa and Toronto, is also leading the province in

 

declaring anti-Black racism a public health crisis, The Official Opposition will continue to work with Black health leaders and allies to push the Ford government to make this declaration on a province-wide basis to help dismantle systemic anti-Black racism and ensure culturally appropriate health and well-being supports within Black communities.

The London Police Services Board

 

passed a motion this week to focus on anti-racism initiatives, consult with the school boards, students and parents (especially those from Black and Indigenous communities) on the role of police officers in schools, and to push for race-based data collection and analysis.

The Thames Valley District School Board is preparing for a review of police officers in schools, and has also launched an

 

online forum to gather input from students, parents and communities on the changes necessary to address racism and eliminate discrimination in Thames Valley schools.   
 
Join me for a live and interactive COVID-19 Virtual Town Hall with London's Medical Officer of Health, Dr. Chris Mackie. Together, we will answer your questions and hear your concerns about the COVID-19 State of Emergency and the reopening of the economy.
London West residents can participate by phone or online, and will be able to submit questions to me and Dr. Mackie, either ahead of time or during the conversation.
Canada Day Lawn Signs
To help Londoners celebrate, I am offering FREE Canada Day lawn signs. Drop by 240 Commissioners Rd West (end unit) at the corner of Knights Hill Rd for contactless pickup outside my community office. The signs will be available Monday to Friday from 9:30am to 4pm while supplies last. No need to order ahead!
If you are not able to pick up a sign, and would like one delivered, please contact my office at [email protected] or 519-657-3120.
Go Gold for the Grads of 2020! 
This Thursday June 25, Londoners are invited to "Go Gold for Grads" by lighting up or decorating their home or business in gold. The initiative is a collaboration between Thames Valley Council of Home and School Associations (TVCHSA), Councillor Shawn Lewis and Thames Valley District School Board (TVDSB) Trustee Corrine Rahman, as a way of celebrating the thousands of secondary school students who make up the graduating class of 2020. The TVDSB, London Catholic District School Board, Conseil Scolaire Catholique, Fanshawe College and Western University have all signed on to participate. 

Many thanks to Londoners Charles Knott and Emily Jackson for the "Congratulations Graduate" sign design, available for purchase at staysafebekind.ca, with all proceeds going to the Thames Valley Education Foundation Caring Fund. Watch for the signs posted outside my office on Commissioners Rd West, letting the graduates know how proud I am of their perseverance and accomplishments in reaching this significant milestone.  
Green Gifts for Isolated Seniors 
The Julia Hunter Fund, a local charity that funds public gardens, has responded to changing needs during the COVID-19 pandemic to bring some cheer to locked-down seniors with gifts of houseplants. The charity worked with Heeman's Garden Centre to select and source plants that are easy to live with and to look after, then delivered them to residents of Warner Place and William Mercer Wilson Centre. Big shout-out to Murray Hunter and this team for their thoughtful act of kindness!
 
Provincial Government Updates
Emergency Orders Extended
The government has extended all emergency orders currently in force until June 30, 2020.

COVID Alert Exposure Notification App
In partnership with the federal government, Ontario will begin testing a new Bluetooth-based COVID-19 contact tracing app early next month. Users will be able to voluntarily download the COVID Alert app, which will notify them if someone in their contact list — who must also have app — tested positive for COVID-19 in the last 14 days. The alert can only happen if the infected contact tells the app they tested positive. The user on the other end is not told who has tested positive, or when or if they may have come into contact with them, but will be advised to call their local public health unit for recommended next steps. Ontario hopes to have the app available for download on July 2 for iPhones running iOS 5.0 or later and for Android phones running Android 6.0 or later. 

DriveTest Centres Reopening
Effective June 22, 2020, select DriveTest Centres will reopen for G1 and M1 tests, driver's licence exchanges, New Entrant Education and Evaluation Program (NEEEP) testing, Commercial Vehicle Operator Registration (CVOR) testing, and commercial driver licence upgrades and renewals. Full services are expected to resume by September.
Access to centres will be based on the applicant's birth month to support physical distancing measures, health checks and enhanced sanitation measures to limit the potential spread of COVID-19. Before visiting a DriveTest Centre, please read online updates and FAQs to learn more about available services. More driver examination services will be gradually restored in 3 phases in the weeks and months ahead. Many part-time Travel Point locations will begin reopening later in the summer
Three Scenarios for Fall Return to School
The Ontario government released its plan for the resumption of class for the 2020-21 school year, outlining three scenarios for the return of students, teachers and staff to classrooms in September, including in-class instruction, online learning, or a mix of both, School boards must begin planning for these three scenarios, which will depend on the local public health context at the time. The lack of clarity in the government's plan, and the delegation of responsibility to school boards without funding for additional support and staffing to implement, has raised serious concerns among both parents and educators.


Visitors Permitted in Acute Care Settings
Ontario's Chief Medical Officer of Health has advised that visits can resume in acute care settings. Existing visitor policies regarding essential visits should be revised to allow visits by family/caregivers and other types of visitors, while still following public health measures to minimize the risk of COVID-19 transmission.

Moratorium on Commercial Rent Evictions
The government passed the Protecting Small Business Act to temporarily halt or reverse evictions of commercial tenants and protect them from being locked out or having their assets seized during COVID-19. The legislation applies to businesses that are eligible for federal/provincial rent assistance for evictions from May 1, 2020 until August 31, 2020.

Unfortunately, the government's decision to limit the eviction ban only to businesses eligible for the flawed and restrictive Canada Emergency Commercial Rent Assistance (CECRA) effectively excludes thousands of small businesses. The Official Opposition pushed for changes that would have included all businesses in the protection against eviction – not just a select few – and making that protection retroactive to mid-March.
Workplace Safety
The government has developed a new general workplace guide to help employers develop a safety plan to better protect workers, customers and clients. The new downloadable toolkit offers tips on how to help prevent the spread of COVID-19 as more people get back on the job during Stage 2 of the reopening of the province. The guide is designed for workplaces that are currenting operating, as well as those that have been closed and are planning for a return to business operations. Employers can also access a list of companies that sell personal protective equipment (PPE) and other supplies to keep employees and customers safe from COVID-19. Before reopening, businesses should review sector-specific guidelines to identify necessary PPE and supplies. 
London Updates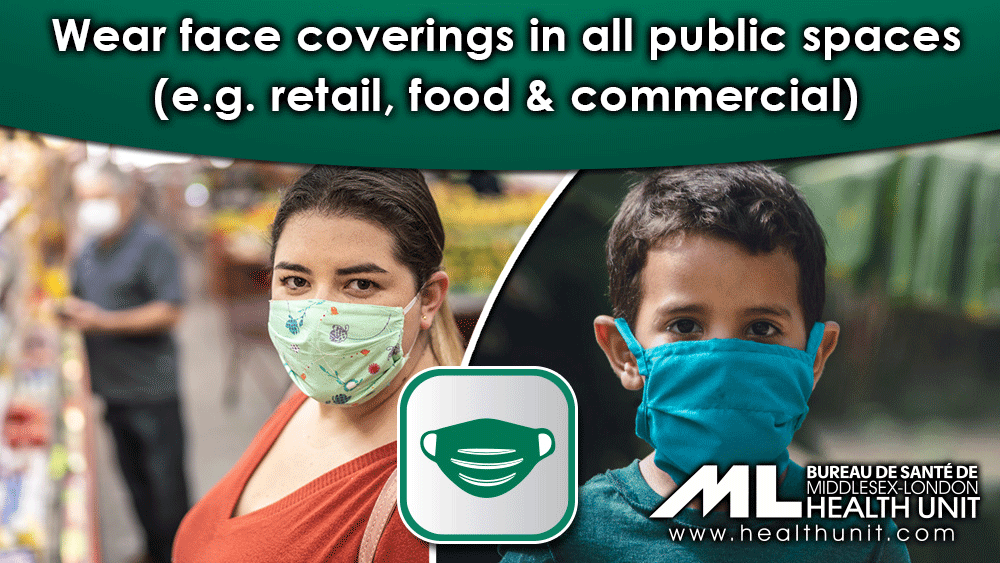 MLHU Strongly Recommends Wearing Masks
London and Middlesex County are gradually reopening, but that doesn't mean COVID-19 is gone. The virus is still here. That's why the Middlesex-London Health Unit strongly recommends wearing face coverings in all public spaces, including retail, food, and commercial establishments. The way to beat COVID-19 is to stop it from spreading.

City of London offering modified summer day camp program
The City of London is offering 13 modified summer day camps this summer at Storybook Gardens and in community centres across the city. As part of the modified summer day camp experience, campers will take part in active and quiet games, arts and crafts, nature-based and outdoor activities among smaller camper groups of eight.
Day camp sessions begin July 13 and July 20 for children ages 4-12, along with a camp opportunity for youth ages 12-21 with special needs. Core program hours are Monday to Friday, 9am to 4pm with assigned parent or guardian pick-up and drop-off times. Extended care beyond core camp hours will not be available this year.
Registration will be available starting Monday, June 22 at 8:30am online at www.london.ca/pywonline or by calling 519-661-5575. In-person registration will be available at the City of London offices, second floor of 355 Wellington Street (Citi Plaza), Suite 248 on Monday, June 22 between 8:30am - 12pm and 1pm - 4:30pm. For more information and summer camp 2020 details, please visit london.ca/summercamp2020.
Park Washrooms Reopen
The City of London has reopened public washrooms in the following parks:
Vauxhall Park
Springbank West
Springbank pump house
Springbank Gardens North street in Springbank
Thames Park
Greenway Park
Gibbons Park
Ivey Park
Washrooms are open between 8am and 7pm daily, with the exception of the facility in Ivey Park, which is open from 10am to 6pm. Staff will be cleaning and restocking washrooms twice daily. The City is continuing work to open more park washrooms.
Additional shared space for pedestrians and cyclists on Richmond Street
The City has opened the southbound curbside lane of Richmond Street, from Mill Street to Kent Street, to pedestrians, cyclists, and businesses to create a new shared space. The changes to Richmond Street are flexible, and will support greater physical distancing and access to downtown businesses.  London Transit bus stops are not impacted, and riders will still be able to connect to buses traveling on Richmond Street.
Federal Government Updates
CERB Extended
Eligible workers will be able to receive the Canada Emergency Response Benefit for an additional 8 weeks for a maximum of 24 weeks of benefits.
Camping Reopens at National Parks
Starting June 22, 2020, Parks Canada will begin to offer some camping services at select national parks and national historic sites across the country. Initially, camping will be available only to visitors with existing reservations. Parks Canada will gradually begin to accept new online reservations for some campgrounds over the coming weeks. Visit the Parks Canada website dedicated to camping during COVID-19 to plan and be prepared for your visit.
CEBA Expanded
The Government of Canada has announced expanded eligibility criteria for the Canada Emergency Business Account (CEBA). Owner-operated small businesses that had been ineligible for the program due to their lack of payroll, sole proprietors receiving business income directly, as well as family-owned corporations remunerating in the form of dividends rather than payroll will become eligible. The expansion was planned to take effect this week, but has been delayed. Visit the CEBA website for updates.
Bill 156, Security from Trespass and Protecting Food Safety Act
Bill 156 returned to the Ontario Legislature for third reading this past week. During public input pon the bill earlier in June, numerous legal experts testified that some measures would threaten the constitutional rights of workers, Indigenous people, journalists and the general public. The NDP proposed amendments to remove these unconstitutional provisions, but the government members on the committee voted our amendments down. Unfortunately, this flawed and dangerous legislation passed into law on June 17. 
Provisions identical to those in Bill 156 have been repeatedly struck down by courts in the United States. It is almost certain that Bill 156 will face a similar legal challenge, putting the province in a position to face costly legal challenges at a time when we can least afford it.
The Ontario NDP supports Ontario farmers. We support reasonable measures to improve biosecurity and protect family farms. But we vehemently oppose legislation that threatens our basic rights, and could not support the passage of Bill 156.  
Community Office
240 Commissioners Rd W, Unit 106
London, ON N6J 1Y1
Tel: 519-657-3120
Queen's Park Office
Room 359, Main Legislative Building, Queen's Park
Toronto, ON M7A 1A5
Tel: 416-325-6908
Email:
[email protected]